Case Study: Tata Steel Filtration Plant
Tata Steel has installed a Bag Filtration Plant on its existing secondary dust extraction system located within the Sinter Plant at its works in Port Talbot, South Wales.
The Bag Filtration Plant is required to reduce the outlet stack emissions to less than 10mg/Nm³ in order to comply with the Industrial Emissions Directives.
As part of the Project, orders have been placed for the EC&I installation on the Bag Filter Plant and external ductwork to connect the new system to the existing plant.
C&P Engineering were responsible for the supply, installation, testing and commissioning of electrical equipment, including cabling and containment to ensure complete and safe operation of the bag filtration plant. This included installation of cabling, cabling trays, junction boxes, pumps, compressors, monitors and lighting that formed part of the scope of work specified.
The scope of works covered under this specification in general comprises of complete installation of all electrical systems and associated cabling for the Bag Filter and associated systems.
Part of the contract also included the installation and electrical work on the hoppers under the bag filters as shown in the picture below.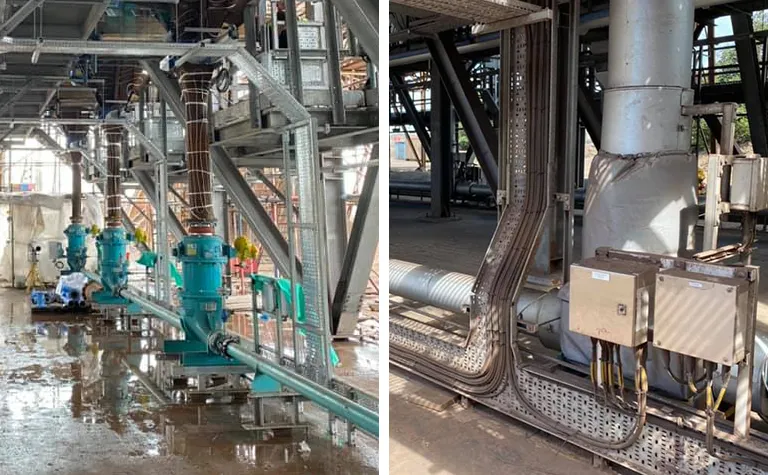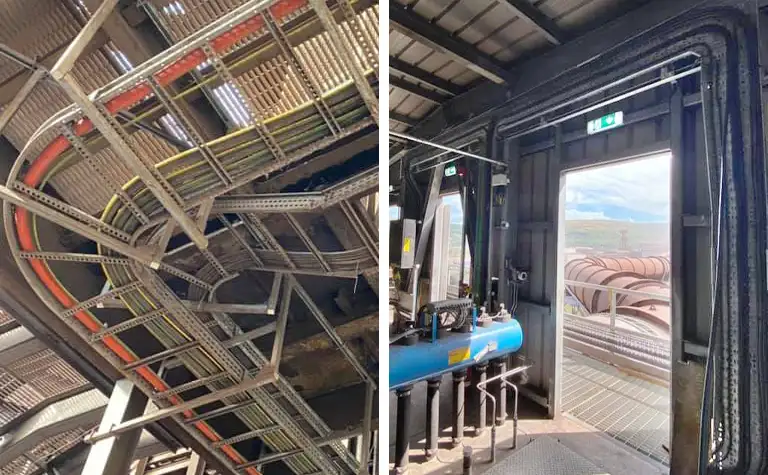 There are 10 hoppers in total underneath the bag filters to collect and capture the dust, and various instruments were installed including level switches, thermocouples and solenoid valves. The hoppers were then wired back to the PLC1. Every hopper has a dedicated junction box to which the local instrumentation on the designated hopper will be wired with a multicore cable being run to the Bag Filter RIO Panel. Suitable size junction boxes as per Tata Steel's specifications have been supplied and installed by C&P Engineering. The contract also included the hooking-up of 10 differential pressure transmitters and pressure indicators associated with the bag filter cleaning system.
The schedule of work was carried out in June 2020 over a 12 month period by a team of up to 15 electricians and site managers and was completed on schedule.
Due to the site installation of the Bag filtration system, Tata Steel has now achieved their objectives by reducing plant dust emissions to less than 10mg/Nm³ for the Sinter Plant.