CompEx Training –
Official Opening of New Training Centre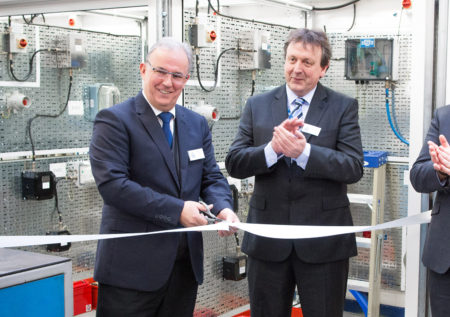 C&P Engineering Services and Gower College Swansea are delighted to announce that after a successful licensing visit on the 23rd February 2018, the newly built CompEx training facility, situated at Gower College Swansea's Tycoch Campus is officially now open.
The centre was officially opened by Martin Jones, CompEx Operations Manager – JTLimited on the 8th March.
CompEx Training is the recognised global scheme for providing candidates with the essential knowledge and practical skills to enable safe working in potentially explosive atmospheres, whether due to flammable gas, combustible dust or other hazards. The CompEx curriculum includes specific knowledge and practical assessments based upon the IEC 60079 set of standards, including parts 14 & 17.
John Harris, CompEx Field Officer, has completed a visit to the centre and witnessed the first Ex01-04 Gas & Vapour assessments taking place: "I'm impressed by the dedication and hard work of both C&P/GC in developing the Ex01-04 bays to a high standard. C&P are bringing their wealth of hazardous area experience to bear in partnership with the excellent learning environment that Gower College offers."


Over two days JT Limited has conducted a rigorous External Quality Assurance examination of the centres Instruction and Assessment facilities, Quality Management systems and centre administration process, and has concluded that the C&P/Gower College centre has met the criteria to be granted a License to deliver Ex01-04 & Ex01-04 Refresher modules.
Rab Hanney – CompEx Assessor 102 – is mentoring the centre's assessment staff: "For a new centre, I have been very impressed by the professional way the staff conducted the instruction and have built a fantastic assessment facility. It has been a pleasure to mentor the assessors and I'm sure they will be a credit to the CompEx family."
Dewi Evans C&P Engineering – CompEx Instructor 216 – commented: "It's great to see an end product to all our hard work in building the CompEx bays. Whilst we continue to work in industry in hazardous areas, it will be great to pass on our experience and help make the workplace safer for all."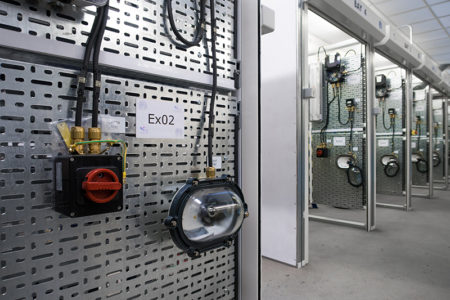 Tim Clark, Assistant Learning Manager for Gower College commented: "We are very proud to host this brand new facility at our Tycoch campus. We look forward to working with UK and international employers, apprentices and commercial students to offer a range of CompEx courses."
The CompEx centre will provide delegates with a state-of-the-art learning experience in a safe and comfortable environment. Equipped with purpose built training booths, workshops and classrooms, the centre offers full practical and theoretical training and assessment.
The main objective of the CompEx Training Centre will be to improve the knowledge and practical skills set of employees and provide a pathway for local and national companies that wish to demonstrate compliance with regards to the ATEX European Directives, IEC International Standards and DSEAR regulations. It will also assist companies that wish to ensure they have a sustainable, competent workforce to maintain and install hazardous area equipment within potentially explosive atmospheres.
Current Course Available 2018:
•    CompEx Ex01-Ex04 Gas & Vapour
•    CompEx Foundation Ex F (Available on-site at your premises)
Additional courses are in the process of being developed and will be available at the training centre. Future courses will include:
•    CompEx Ex01-Ex04 Refresher
•    CompEx Dust Ex05-Ex06
•    CompEx Responsible Person Ex14
•    CompEx Design & Project Engineers Ex12A & Ex12B
•    CompEx Mechanical Ex11
Book Today
To find out more details or to book a course, please contact our customer services team on +44(0)1792 897002 between 9:00 am and 5:00 pm, Monday to Friday. Alternatively, if our offices are closed, by email info@cptrainingservices.co.uk
CompEx Accreditation: The CompEx scheme is developed by the Engineering Equipment and Materials Users' Association (EEMUA) and JT Limited, the CompEx  Certification Body – accredited by UKAS to ISO/IEC 17024: 2012
For more information on how we can help with your hazardous area ATEX inspection requirements, please visit www.hazardousareainspection.com

For more information about C&P Engineering Services' EC&I full turnkey services, please visit www.cpengineering.co.uk