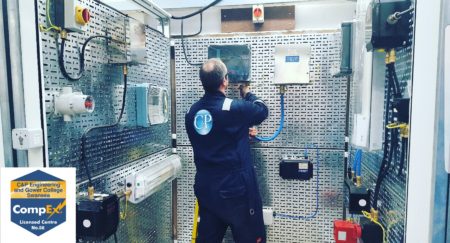 CompEx Training is the recognised global scheme for providing candidates with the essential knowledge and practical skills to enable safe working in potentially explosive atmospheres, whether due to flammable gas, combustible dust or other hazards. The CompEx curriculum includes specific knowledge and practical assessments based upon the IEC 60079 set of standards, including parts 14 & 17.
C&P Engineering Services has global experience and extensive Ex knowledge of installing and inspecting hazardous area electrical equipment. CompEx training courses are delivered at our training facility in Swansea, and provides delegates with a state-of-the-art learning experience in a safe and comfortable environment. Equipped with purpose built training booths, workshops and classrooms, the centre offers full practical and theoretical training and assessment.
The main objective of the CompEx Training Centre is to improve the knowledge and practical skills set of employees and provide a pathway for local and national companies that wish to demonstrate compliance with regards to the ATEX 137 European Directive, IEC set of standards and DSEAR regulations. It will also assist companies that wish to ensure they have a sustainable, competent electrical workforce to maintain and install electrical equipment within potentially explosive atmospheres. Vocational training is also a key element for the electrical labour market to function correctly, to create employment and to promote workers competency and professionalism.
We will be offering the following course from the 19th February 2018:
•    CompEx Ex01-Ex04 Gas & Vapour
•    CompEx Foundation Ex F (Available on-site at your premises)
Additional courses are in the process of being developed and will be available at the training centre. Future courses will include:
•    CompEx Ex01-Ex04 Refresher
•    CompEx Dust Ex05-Ex06
•    CompEx Responsible Person Ex14
•    CompEx Design & Project Engineers Ex12A & Ex12B
•    CompEx Mechanical Ex11
To find out more details or to book a course, please contact the Swansea CompEx Training Centre by visiting www.cptrainingservices.co.uk, calling +44(0)1792 897 002 or emailing us on info@cpengineering.co.uk
For more information on how we can help with your hazardous area ATEX inspection requirements, please visit www.hazardousareainspection.com
For more information about C&P Engineering Services' EC&I full turnkey services, please visit www.cpengineering.co.uk