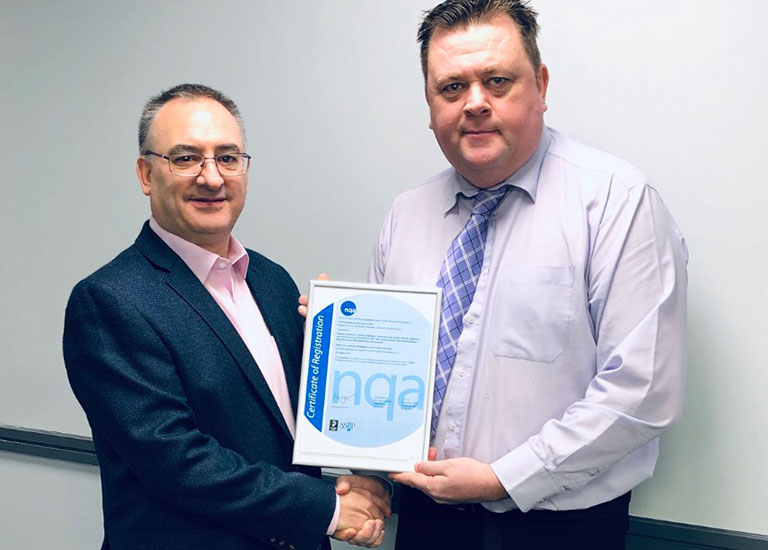 Left – MD, Paul Bunyan, Right – QHSE Manager, Mark Howell
C&P Achieves ISO 45001  – Committed to Workplace Occupational Health & Safety
Leading South Wales Electrical, Control & Instrumentation Engineering Solutions provider, C&P Engineering Services, has achieved the international standard ISO 45001:2018 for their occupational health and safety management system, certified by the global certification body, nqa.
C&P Engineering Services experienced record growth last year since the company began in 1973 and its global operations are managed from their Gorseinon office in Swansea. The company employs around 80 employees and delivers performance-driven critical, Electrical, Control & Instrumentation engineering solutions to local and global industry within the oil, gas, chemical, nuclear, pharmaceutical, steel, process manufacturing, renewable energy and industrial markets.
ISO 45001:2018 is an International Standard that specifies requirements for an occupational health and safety (OH&S) management system, to enable organisations to proactively improve their safety performance in preventing accidents, injury and ill-health.
The new international standard was only released in March 2018 and C&P has worked hard to gain this accreditation to show their commitment to the health and safety of their employees and clients. The new framework was brought out when 2017 calculations by the International Labour Organization (ILO) showed that 2.78 million fatal accidents occur at work yearly. This means that, every day, almost 7 700 persons die of work-related diseases or injuries. Additionally, there are some 374 million non-fatal work-related injuries and illnesses each year, many of these resulting in extended absences from work.
This paints a sober picture of the modern workplace – one where workers can suffer serious consequences as a result of simply "doing their job". Essentially, ISO 45001:2018 provides a framework to improve employee safety, reduce workplace risks and create better, safer working conditions, focusing on a proactive approach to improving safety performance.
Mark Howell, QHSE Manager, said "This new accreditation replaces the previous British Standard OHSAS 18001. All companies need to migrate to ISO 45001 by March 2021 to retain recognised certification but C&P is leading the industry by becoming one of the first companies to achieve the accreditation. Our current ISO 9001 Quality Management and future ISO 14001 Environmental Management systems will be integrated within ISO 45001, which helps streamline the operation of the business, becoming a fully Integrated Management System."
Paul Bunyan, MD, said "We are delighted to have achieved this important accreditation. It shows how much emphasis we put on Health and Safety with regards to our employees, operations and client's sites. It also confirms that we are meeting stringent international standards. Last year C&P Engineering Services experienced record growth and this achievement and accreditation is enabling us to better position ourselves for expansion, using competent control and the high levels of safety and environmental expectations that are required of C&P Engineering Services."
Find out more about C&P's projects and EC&I Engineering Solutions>