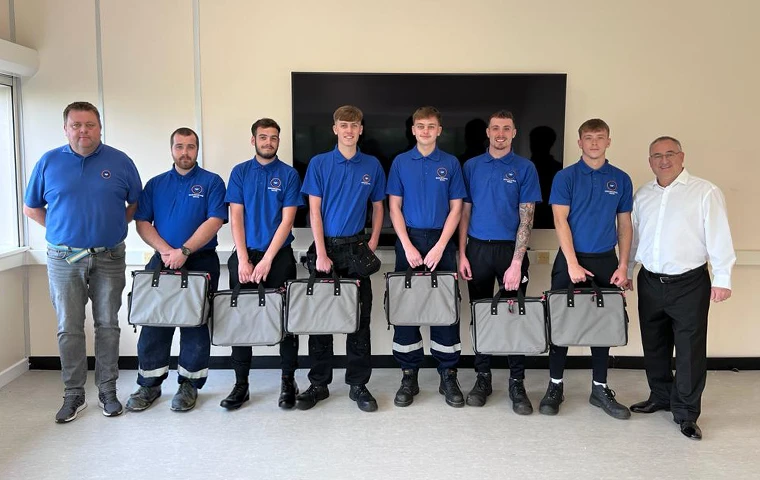 Pictured from Left to Right
Mark Howell (QHSE Manager), Jack Davies (Pipe Fitting), Harris Scoulding (Electrical), Charlie Rainey (Electrical), Harry Howell (H&S), Christopher Hartson (Electrical), Joshua Murphy (Electrical), Paul Bunyan (Managing Director).
---
C&P Engineering Services Ltd. Welcomes Six New Apprentices to its Growing Team!
C&P is known for its innovation and commitment to fostering talent, and is thrilled to announce the addition of six talented apprentices to its workforce. This move aligns with the company's dedication to nurturing young professionals and investing in the future skills of our industry.
The six apprentices, who were selected through a rigorous recruitment process, will join various departments within C&P Electrical, Pipe-Fitting and Health & Safety. This diverse group of apprentices brings a wealth of enthusiasm, fresh perspectives, and a strong desire to learn, all of which align perfectly with C&P's core values.
---
"We are excited to welcome our new apprentices to the C&P family" said Paul Bunyan, Managing Director of C&P "Our commitment to fostering talent is unwavering, and we believe that this group of young professionals will contribute significantly to our ongoing projects and future innovations. We see this as an investment not only in their careers but also in the growth and success of our company."
"Continued investment in our youth, to ensure these core key skills stay in our sector" said Mark Howell, QHSE Manager. "The addition of this cohort brings our total apprentice total to 14, this demonstrates C&P's ongoing commitment to the youth of today, to prepare for the future of tomorrow."
---
Over the next 12 months, these apprentices will undergo comprehensive training programs, mentorship, and hands-on experience as they work alongside time served professionals at C&P. The company is dedicated to providing them with the skills and knowledge necessary for successful careers in our industry.
C&P is proud to play an active role in nurturing the next generation of technical engineering leaders. The company is confident that the addition of these apprentices will not only benefit the individuals but also contribute to the company's continued growth and success.
For more information about our Apprentice Opportunities please click here.