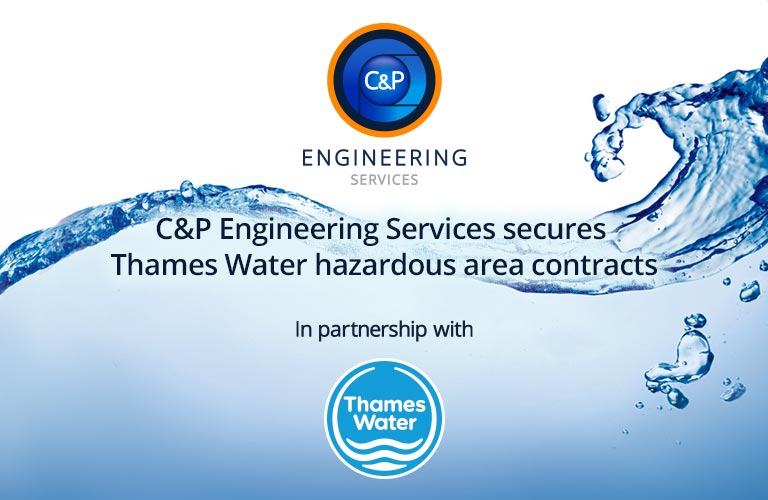 Hazardous Area Inspection & Remedial Services
C&P Engineering Services Ltd, the electrical, control & instrumentation engineering solutions company has secured significant contracts with Thames Water for the provision of hazardous area inspection & remedial services,
The contracts include the inspection & associated works of electrical installations in hazardous areas across Thames Valley West, Thames Valley East and the Central South regions. C&P has also been appointed to the framework agreement for remedial repairs for electrical installations in hazardous areas.
Thames Water – The UK's largest water and wastewater company provides high-quality drinking water and sanitation services to one of the world's greatest cities as well as the diverse towns and villages in the Thames Valley. With over 15 million people relying on their water they are responsible for delivering life's essential services so their customers communities and the environment can thrive.
Paul Bunyan, C&P's Managing Director, said: "Our hazardous area experience and capabilities make us uniquely equipped to meet the varied and changing requirements of Thames Water across their regions. Securing these contracts illustrates our ability to deliver complex engineering solutions that create value for our customers.
We are proud to become a major provider of engineering services to Thames Water and look forward to building a strong partnership with them and delivering our specialist engineering services. We have also enhanced our risk assessments and operational procedures to ensure that we can continue to provide essential services to our clients in a safe manner during these challenging times. Whilst the past couple of months have been very difficult for our business and, of course, the entire industry our continued growth provides employment opportunities for highly skilled staff as well as continuing to invest in apprenticeship and engineering skills for the future."
C&P Engineering Services is an EPC for Electrical, Control & Instrumentation engineering activities, ranging from design, build, operation & maintenance solutions to high voltage engineering and training services. The company also delivers its hazardous area services globally, assisting a diverse range of customers with maintaining and managing their hazardous area electrical assets.
C&P offers full EC&I engineering services to a customer base which includes Nuclear, Oil & Gas, Chemical, Petrochemical, Water, Aerospace, Process Manufacturing, Power Generation, Pharmaceutical & Renewable Energy industries.
Additionally C&P provides the necessary certified training for working in hazardous areas. The company has an Approved Licensed CompEx electrical training school, certified by the JTL Group for providing candidates with the essential knowledge and practical skills to enable safe working in potentially explosive atmospheres in line with the BS EN / IEC 60079: 17/14 standards.
C&P Engineering Services' turnkey solutions include:
For further information:
Tristan Jones – Sales & Marketing Manager
Tel: 01792 897002
Email: info@cpengineering.co.uk