AspireToBeSteel – Girls in Industry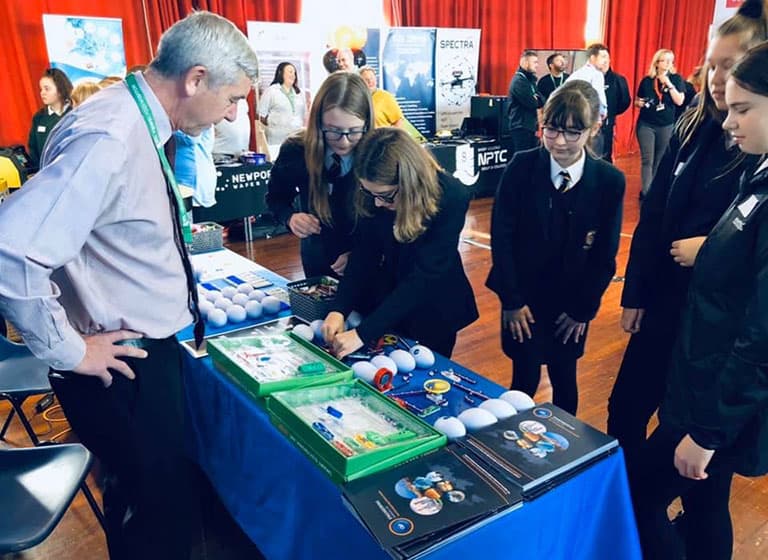 C&P Engineering Services were delighted to support Aspire2BeSteel, a Tata Steel engagement day initiative which took place on the 16th October to encourage girls to pursue careers in STEM (Science, Technology, Engineering and Maths). The event was delivered as a partnership between the ECITB, Tata Steel Europe, Neath/Port Talbot College and the Regional Learning & Skills Partnership.
The engineering construction industry has a 12.5% female demographic the ECITB and the partnership are keen to change this by encouraging more female participation the industry.
The experience day challenged fifty year eight pupils from selected schools in Swansea and Neath / Port Talbot who had a strong interest in STEM and were looking to consider a career in engineering. Throughout the day the girls were provided with fun packed but challenging, informative and exciting activities.
The event was held at Neath/Port Talbot College and provided an opportunity for the girls to try various pieces of tech including AI, VR and Drones and the chance to win prizes by participating in a pipeline challenge competition which tested their project management skills and team work..
Tristan Jones, Sales & Marketing Manager, Tim Clark, Training & Development Manager and Angela Plaice from the accounts team of C&P attended the initiative and met with Year 8 female students to talk to them about their interests and aspirations in engineering and the industry. They were also tasked with various activities and challenges at the C&P stand such as creating circuits for motors that propelled propellers into the air!
Tristan Jones, Sales & Marketing Manager of C&P said, "From our perspective, inspiring more girls to STEM subjects is essential to helping the industry grow and increase the talented pool of women in engineering. Our industry is already seeing an acute shortage of electrical engineering skills at all levels and it is vital that young female students are given the opportunity to see what a modern engineering workplace and environment is like.
Through giving them more information we're opening doors for these students into areas they might not have considered. We thoroughly enjoyed being part of this initiative and it was very enjoyable speaking to the students about their future aspirations and interests. As the activities and challenges progressed it was fantastic to really see their interest, passion and confidence grow."
For further information about C&P Engineering Services EC&I Turnkey solutions visit: