C&P Engineering Services becomes FPAL Registered Supplier to the Oil and Gas Sector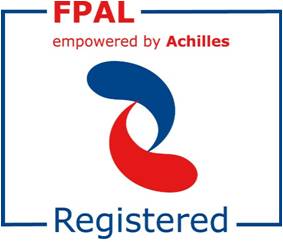 C&P Engineering Services are pleased to announce that we have now become an official FPAL registered supplier to the Oil and Gas sector for the provision of a diverse range of Electrical and Instrumentation offshore engineering services.
Accreditation was made through the industry standard accreditation body FPAL (First Point Assessment Ltd, a division of Achilles Information Limited), the Oil and Gas supply chain database for the UK, Ireland, and the Netherlands.
C&P Engineering Services' supplier number on the FPAL database is: 10054077
Following registration with FPAL, Tristan Jones, C&P's Sales & Marketing Manager commented: "Registration to FPAL is an important step to ensure our customers with the confidence that our services are constantly at the highest standard possible. The FPAL accreditation confirms our commitment to becoming a reliable and trusted supplier to the Oil and Gas industry, whilst also providing more exposure of our complete E&I contracting services."
C&P Engineering Services is registered on the FPAL database with the following offshore E&I services:
3.05.02 – Electrical / Instrument Services: LV Overhaul. Healthcare E&I Installation, Maintenance & Project Management.
3.05.19 – Preservation of Mechanical and Electrical Component Services: Maintenance, remedial works and inspection of electrical and instrumentation systems and equipment. Project Management, Hazardous Area E&I Inspection, Installation, Maintenance, Consultancy and Project Management.
3.07.05 – Instrument Testing / Calibration Services: Process Instrument Calibration Maintenance & Asset Management.
3.07.98 – Other Inspection Services: Ex equipment inspection service. ATEX/IEC/Ex/DSEAR.
3.01.05 – Electro / Control / Instrumentation Services – Design and Management of Process Instrumentation & Control Equipment Services