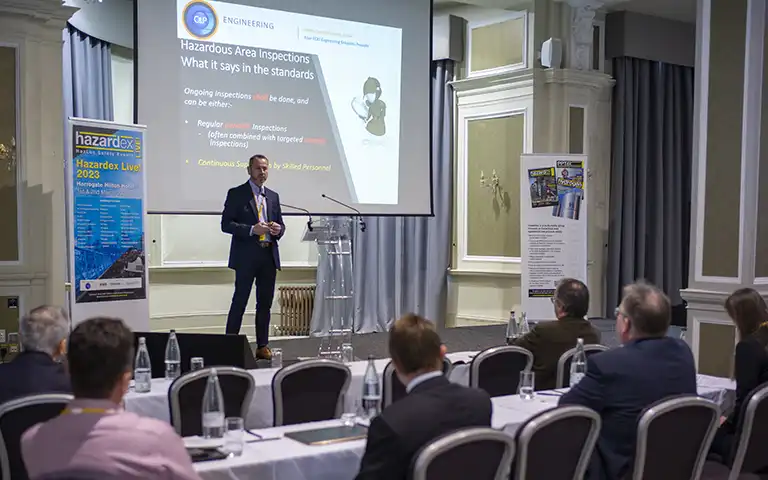 ---
Tal Hopkins, C&P Engineering Ltd's Technical Director, can be seen here delivering a presentation at the recent Hazardex Live 2023 conference and exhibition in Harrogate.
The hot topic was 'The Benefits of Commitment versus Compliance' in the approach to Hazardous Area Inspections.
The presentation was warmly received by delegates and visitors alike, sparking discussion about the merits of doing inspections during breakdowns and repairs, and how non-electrical Hazardous Area inspections are often overlooked, as are portable and personal equipment, such as torches or gas monitors, all of which must also be inspected.
Tal introduced to the delegates, a very powerful, yet simple prioritisation tool that can help prevent Responsible Persons becoming overwhelmed when faced with seemingly unmanageable lists of remedial repairs following Inspection Cycles.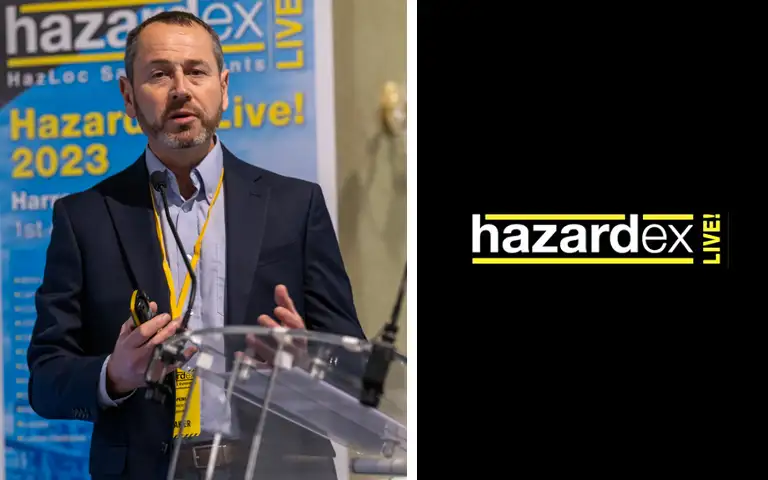 ---
In addition to offering techniques to optimise Hazardous Area Inspection & Repair Policies, Tal spoke about the importance of selecting the best Inspection Partner to undertake Inspections on your behalf, and the importance of succession planning for those persons managing Inspections and Repairs, ensuring all current and future Responsible Persons attain the CompEx14 'Responsible Person' qualification from one of the many facilities in the UK offering this training, including C&P's own CompEx Training Facility in Swansea, where we also offer the following courses:-
CompExF Foundation Course
CompEx01-04 Gas and Vapours Course
CompEx05-06 Combustible Dusts Course
CompEx11 Mechanical Course – Non-Electrical
CompEx12 Design Engineers Course
CompEx14 Responsible Person's Course
---
For further information regarding training please visit www.cptrainingservices.co.uk
For further information regarding assistance with your inspections, repairs and compliance please call us on 01792 897 002