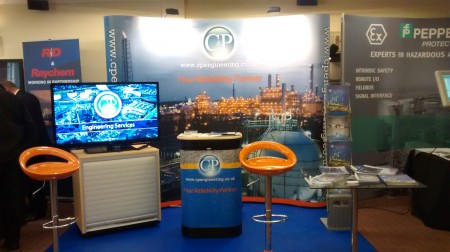 HazardEx Swansea 2015: Exhibition Success
ATEX & DSEAR
C&P Engineering Services were pleased with the success of their stand at the recent HazardEx 2015 in the regions event, held in Swansea at The Village Hotel on the 28th January 2015. The event was  held for senior staff involved in high hazard industry safety, and attendees included senior engineers and safety managers, company directors, product manufacturers, regulators and certification bodies, amongst others. The exhibition saw specialist companies showcasing their products and services to the safety and hazardous area industries, offering information for senior engineers, plant managers & heads of maintenance.
Tristan Jones – Sales & Marketing Manager commented: "We would like to take this opportunity to thank all our customers and associates for visiting our stand. We hope you thoroughly enjoyed your visit and the hospitality on offer at our stand and at the event. The exhibition was a great success for C&P Engineering Services and gave us the opportunity to showcase our successful hazardous area services which generated a great deal of interest. We hope you enjoyed the show and we look forward to seeing you again in the near future. A great deal of thanks is extended to all our visitors from C&P Engineering Services for making the event so successful. "
Papers included: Peter Evans – Health & Safety Executive; H M Specialist Inspector, Electrical, Control and Instrumentation Systems, Chemical, Explosives and Microbiological Hazards Division (HID CEMHD 2E)
'The introduction in early 2015 of the HSE's E,C&I Delivery Guide'
The HSE presented the newly developed 'Electrical, Control and Instrumentation operational delivery guide for COMAH establishments' which the HSE EC&I specialist inspectors will use in their Inspections.
Other speakers included:
Peter Davidson – Director UKPIA; Safety, Commercial & Projects. 'Better Regulation Review – A new approach to COMAH Regulation in the UK'
Richard Barnes – Chairman Fieldbus Foundation UK. 'The application of FOUNDATION Fieldbus and the intelligent field towards improving safety in hazardous area process plant.'
Neil Smith – COGENT & National Skills Academy Process Safety Management Board. 'Influencing change: our journey towards excellence in process safety.'
Kevin Honner, Draeger. 'Infrared Sensors for Detection of Flammables in Portable Gas Detectors' 
'Complacent Consequences' Paul Burns – CB Safety Service'