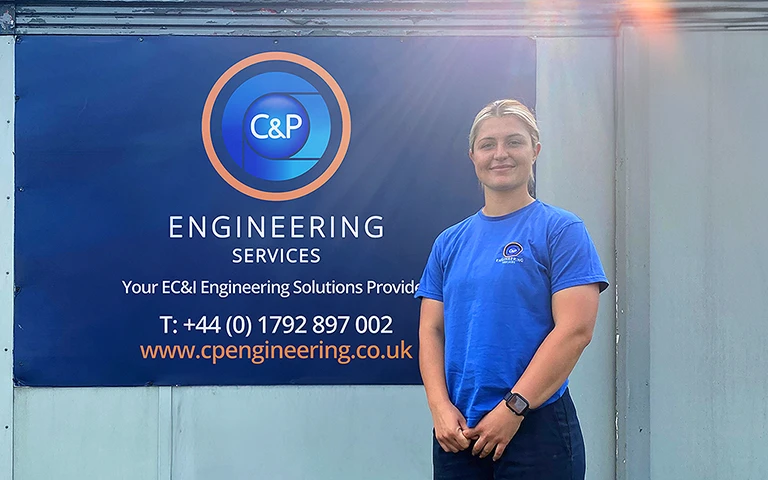 To celebrate International Women in Engineering Day we are giving you an insight into the role of one of our female Electrical Technicians and the reasons they decided to take the career path they've chosen.
Hi, my name is Rebecca Coles, I am 24 years old and I work for C&P Engineering Services Ltd in Tata Steel, Port Talbot as a Hazardous Area Inspector/E&I Technician.
Growing up and watching my dad pursue his passion for engineering, it was perhaps inevitable that I would follow in his footsteps. I was introduced into my dad's workplace as a young trainee whilst completing my school work experience. During this time, he gave me an insight into the industry and the variety of work that I would undertake.
I started my career just under 10 years ago after I had completed my GCSE's. At that point, I started a level two course in Electrical Installation. I then secured an apprenticeship with Coastal Housing Group, where I learned about domestic electrical installations. At this point, I felt I had reached my potential in the domestic market and decided that I would like to enter into the industrial sector.
I started working at C&P Engineering two and a half years ago and have been fortunate enough to have already covered a wide variety of work. However, there is always more to learn! Being part of a largely male dominated environment can have its pros and cons. A lot of industrial sites still do not cater for women and this can be as basic as toilets and washing facilities, although overall my experience in the industry has been good and I wouldn't change it and C&P have played a large part in me having this good experience.
By working for C&P, my range of skills have increased and I felt that I would like to take this further. Fortunately, C&P Engineering gave me the opportunity to do this by allowing me to commence my Engineering Degree, which I am now in my second year. Once I have completed this, I hope to progress further within the industry by taking the next step and move on to a Master's Degree.
It would be excellent to see more women coming into this sector, but I feel they are maybe put off by the still apparent out-of-date mindsets in some areas. I do hope that this changes in the next couple of years and that it will encourage more women to enter into what has always been known as a male dominated industry. it's important to remember that change is healthy!
Overall, I hope to continuously keep moving forward and gain more knowledge and push myself into more of an E&I Engineering role. I feel that the way that C&P Engineering has grown and is growing daily, I will be able to do this within the company, as I know that the company invests in its employees and my peers within the team are always ready to share their experiences and knowledge.
Onwards and Upwards!