After 10 years we've updated our logo and restructured!
For over 45 years C&P Engineering Services Ltd has been supporting customers and delivering Electrical, Control & Instrumentation engineering solutions to local, national and global industry within the oil & gas, chemical, nuclear, pharmaceutical, steel, process manufacturing, renewable energy and industrial markets.
As part of the rebranding of C&P Engineering Service Ltd, we've made some changes to reinforce our connection to the wider JOL Group and to align with our history and heritage. The first phase of the rebrand has been to update our logo and our websites which was last completed over 10 years ago. We have emphasised our position as the electrical, control & instrumentation engineering solutions company arm of JOL Group Ltd by including these elements within our logo.
JOL group Ltd was founded in 2018 as a holding company and is a combination of 3 business units:
• C&P Engineering Services Ltd
• C&P High Voltage Services Ltd
• C&P Training Services Ltd
The restructure and rebranding is as follows: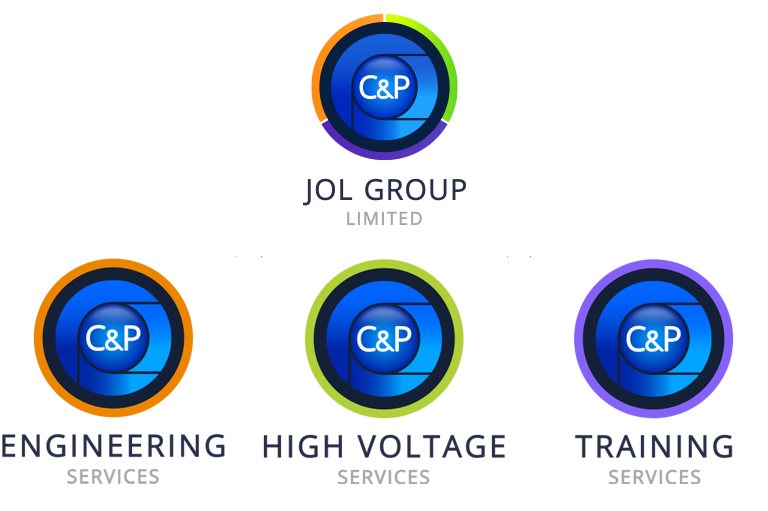 Paul Bunyan, CEO/Managing Director commented: "Founded in 1973, by my father Mr. Colin Bunyan, 'C&P Engineering Services Ltd' focused upon providing a specialist Electrical, Control and Instrumentation Engineering service to local industry within South Wales and after his retirement in 2011 the Managing Director role was taken over by myself.
Following 7 years of increased growth and expansion into Hazardous Area ATEX Inspections, CompEx Training and High Voltage Engineering Services I then decided that the next natural step was to divide the company into strategic business units. These units would specialise and expand in their field of expertise assisting in the overall growth of the company.
It was then decided to form a holding company named 'JOL Group Ltd' and subsidiaries, 'C&P High Voltage Services Ltd' and 'C&P Training Services Ltd'. The structure was created as shown above and a rebranding exercise commenced of the three strategic subsidiaries which resulted in a logo for each one with the similar 'C&P' ball but now circled by an individual colour.
The branding of the 'JOL Group Ltd' logo was then commenced and needed to incorporate the 3 off subsidiary companies to negate any ambiguity of the well-known and well-respected 'C&P' brand. This resulted in the 'JOL Group Ltd' logo shown above. This structure and rebranding allows us to emphasise our link between the group and its three companies.
Please be assured that this will not affect our continual commitment to our core values of providing electrical, control and instrumentation engineering solutions to you our valued customers. In fact this will strengthen our market share and I look forward to the additions of 'C&P High Voltage Services Ltd' & 'C&P Training Services Ltd' playing a significant role in the ongoing success of 'C&P Engineering Services Ltd' and ultimately the 'JOL Group Ltd'.
All companies are involved in Electrical, Control & Instrumentation Engineering (EC&I), and operate in the Oil & Gas, Petrochemical, Chemical, Nuclear, Steel Manufacturing, Power, Industrial, Pharmaceutical and Renewable Energy sectors.  Today the JOL group enables us to offer skills and expertise which provide worldwide integrated EC&I engineering solutions, ranging from project services through to maintenance and industrial / CompEx training.
Thank you for your valued and continued support".
Paul Bunyan
CEO/Managing Director