C&P Engineering Services Appointed as Schneider Electric Partner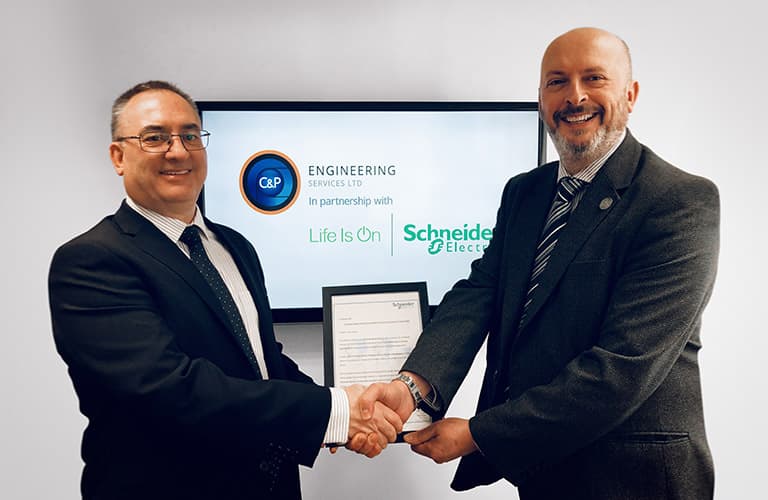 Left – Paul Bunyan, Managing Director – C&P Group,  Right – Jonathan Cowley, Sales Manager – Schneider Electric Process Instrumentation
C&P Engineering Services is proud to be appointed as an official Distribution Partner for Schneider Electric Process Instrumentation, supplying products and engineering services from their headquarters in South Wales.
The appointment officially came into effect on the 4th August 2020 and is an important addition to the Turnkey Electrical, Control & Instrumentation engineering solutions that C&P offer to their clients throughout the UK and internationally. 
Paul Bunyan, Managing Director commented: "Together with our integrated EC&I engineering solutions, this new partnership strengthens C&P's ability to better serve our customers – particularly in the process manufacturing and energy sectors. We are proud of becoming an official partner and look forward to delivering Process Instrumentation supply and solutions to industry through the Schneider Electric brand."
Jonathan Cowley, Sales Manager for Schneider Electric Process Instrumentation commented: "I am really excited about 2020 and beyond! We look forward to doing business via this well established and respected specialist Electrical, Control and Instrumentation engineering company, whereby our customers can enjoy the benefits of the global Schneider Electric Process Instrumentation brand with supply and turnkey 'cradle to grave' engineering solutions from an official UK local partner."
C&P Engineering Services is a leading provider of EC&I engineering solutions, delivering complex, high profile and critical solutions. We offer 'cradle to grave' engineering solutions, across your project life-cycles, from assisting with conceptual FEED studies and providing detailed design, through to installation, construction, commissioning, testing, documentation and supporting maintenance activities.
As an official Schneider Electric Partner, C&P offer products such as Pressure, Temperature, Flowmeters, Level, Process Analytical, PH & ORP Measurement, Valve Positioners, Wireless Technology and Pneumatics which are all supported through our design & engineering solutions to complement the Schneider Electric Process Instrumentation product range.
For more information about how we can support your projects and operations, call +44(0)1792 897002 or email info@cpengineering.co.uk
Our EC&I integrated services can be combined to provide the total EC&I engineering solution or divided into the following design & build, operation and maintenance, consultancy and training services:
•    Control & Instrumentation Design & Engineering
•    Low Voltage Electrical Design & Engineering
•    Hazardous Area ATEX Inspections, Design, Engineering & Consultancy
•    Safety Instrumented System Design & Engineering – IEC 61508, IEC 61511
•    Functional Safety Management Consulting
•    High Voltage Services  Design & Engineering – 11kV | 33kV | 132kV
•    High Voltage Operation & Maintenance Services
•    Project Management – Principal Contractor
•    CompEx Electrical Training Services